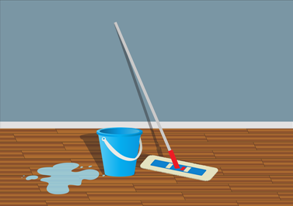 Everyone should aspire to live in a clean house. For those living with chronic obstructive pulmonary disease (COPD), however, keeping a tidy home is essential to maintain optimum health and prevent inhaling harmful pollutants.
Here are some of the most common COPD irritants found in homes and the best ways to reduce their presence:
Tobacco: Cigarette smoke is extremely dangerous, especially for those with COPD. But because there is no way to eliminate it or the harmful effects of its gases and toxins, people with COPD shouldn't allow smoking in their house—at all. Limiting smoking to just one room isn't effective.
Nitrogen dioxide: Emissions from natural gas sources such as a stove or fireplace can act as irritants for COPD sufferers. This is best remedied by having a well-ventilated kitchen

so that anything coming off the stove—whether nitrogen dioxide or the particles created when you're frying something for dinner—is pulled out of the house instead of into your lungs.

Pet dander: Pet dander is an issue for COPD sufferers who also have allergies. Regularly cleaning surfaces, furniture and linens is the best way to guard against irritating dander.
Dust and dust mites: Along with cleaning, the best way to guard against pesky dust and dust mites is to minimize the amount of carpet in your home. Not only will this remove an environment that dust mites love, but replacing carpet will make it easier to see pet hair and other dirt on the floor. If this isn't an option, vacuum regularly — using a vacuum equipped with an air filter is highly recommended — and making sure bed linens are clean.
Humidity: Keeping a home's humidity below 50% can control mold as well as dust mites, which enjoy growing in very humid spaces. The best way to temper humidity is by using the exhaust vent in your bathroom before and after bathing or showering—as long as the vent sends the damp air outside rather than just recirculating it throughout the home.
Click here to read the whole story, which includes tips on how COPD sufferers can keep a clean house.