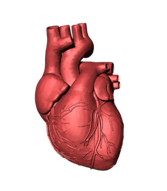 Cardiovascular disease is often associated with chronic obstructive pulmonary disease (COPD). A recent study investigating the relationship between cardiovascular and COPD symptoms shows there may be a link between a patient's diagnostic status and those of patients with suspicious echocardiographic findings, if these symptoms were undiagnosed and untreated.
https://pixabay.com/users/reaperdz-3530416/ " >The research was published in the International Journal of Chronic Obstructive Pulmonary Disease. Lung function data was collected including forced expiratory volume in 1 second (FEV1) and echocardiographic data on the left ventricular ejection fraction (LVEF) and end-diastolic diameter (LVEDD).
Researchers note that diagnosis of the predominant underlying disease and its contribution to COPD symptoms is a challenge, a situation complicated by the fact that even when objective measures of heart function are available, they do not necessarily correlate with the magnitude of symptoms.
"Patients may receive cardiovascular medication, which may alleviate symptoms to a variable degree, depending on the type and severity of cardiac disease … [but] the indication that led to medication in the past might not be verifiable at a later time."
More than 1,590 patients were evaluated in the study, with 289 showing signs of ischemic heart disease, myocardial infarction or heart failure. Another 860 received at least one cardiovascular medication. Of the 948 patients without isolated hypertension, 38% had LVEF less than 50% and 53.4% with LVEDD greater than 56 mm, who lacked cardiac diagnosis and medication.
"The present study revealed a substantial prevalence of cardiac disease in patients with stable COPD. At least one of the three selected cardiac disorders were reported by about one-fifth of the patients, while the rate of suspicious echocardiographic left heart findings was lower. The overlap between reported cardiac history and abnormal echocardiography was low, and only a minority of patients with a respective history exhibited an impaired left ventricular systolic function or dilatation," researchers wrote.
Researchers now suggest that the direct assessment of heart size and function is likely to be more reliable in the detection of concomitant cardiac disease in COPD patients.