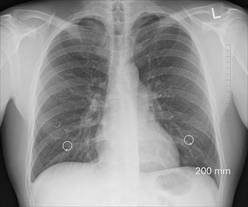 Black lung disease – known clinically as coal workers' pneumoconiosis or CWP – that afflicts coal miners in Appalachia is on the rise, the National Institute for Occupational Safety and Health (NIOSH) reports.
According to NIOSH, the latest national estimate of 10 percent of coal miners with the disease is higher than the estimate last reported using data from 2012. That data showed that just 7 percent of coal miners who worked more than 25 years in underground mines had evidence of black lung.
In just six years, the number of black lung cases in coal miners is up by 3 percent, the organization says. "One in 10 underground coal miners who have worked in mines for at least 25 years were identified as having black lung," NIOSH said. "Coal miners in central Appalachia (Kentucky, Virginia, and West Virginia) are disproportionately affected with as many as one in five having evidence of black lung – the highest level recorded in 25 years."
The data is from the Coal Workers Health Surveillance Program (CWHSP). Established in 1970, the CWHSP offers health screening services to miners, including periodic chest X-rays, lung function testing, respiratory health assessment questionnaires and extended health surveillance to workers at surface coal mines.
NIOSH notes that by the late 1990s, the proportion of screened miners with black lung disease reached the lowest level on record.
Lower incidence outside Appalachia
NIOSH research also suggests that there has been a dramatic increase in progressive massive fibrosis (PMF), the most severe form of black lung disease. PMF had fallen to 0.08 percent among all miners examined by NIOSH in the CWHSP in the late 1990s. Miners outside central Appalachia excluded meant "the prevalence for the remainder of the United States was lower, but an increase since 2000 remains evident."
Increases in the disease may be related to several recent developments, including the use of more sophisticated mining equipment that generates finer dust particles, which exacerbates the onset of disease when they reach the lungs.
Detection, control, screening
Black lung disease is preventable and that "recently enacted protections to prevent coal mine dust exposure and to identify CWP at its early stage remain essential to protect U.S. coal miners."
Medical screenings should involve both detecting and controlling airborne coal dust. In addition, real-time dust samplers, which include personal dust monitors, have also been approved by the U.S. Mine Safety and Health Administration for use in underground mines.