According to a recent study in the journal Chest, titled, "Reduced Risk of Acute Exacerbation of COPD After Bariatric Surgery: A Self-Controlled Case Series Study," the risk of hospitalizations and emergency room (ER) visits caused by acute exacerbations related to chronic obstructive pulmonary disease (COPD) decreases among obese patients who underwent bariatric surgery.
Nearly 6 percent of adults in the United States have COPD, 35 percent of whom are considered obese. According to studies, obesity may be a risk factor as it results in higher rates of acute exacerbations.
Researchers found that patients with COPD who lost weight realized enhanced outcomes, such as clinical scores and exercise tolerance. Yet, there are few statistics available regarding the impact weight reduction can have on additional issues associated with COPD, including acute exacerbations.
The study, conducted by researchers at Massachusetts General Hospital, analyzed 481 obese patients who were diagnosed with COPD and had undergone bariatric surgery between the years 2005 and 2011. The analysis studied each patient's risk of acute exacerbations in COPD (AECOPD) that resulted in ER visits and hospitalizations over a two-year period, which was "compared to the patient's risk in the pre-surgery period."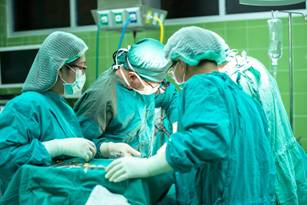 It was discovered that 28 percent of obese COPD patients were hospitalized or visited the ER due to AECOPD 13 to 24 months before their bariatric surgery. However, within 12 months of post-bariatric surgery, only 12 percent of patients were at risk of being hospitalized or visiting the ER.
Although the "mechanism behind weight loss and a decreased risk of AECOPD" has yet to be discovered, researchers suggest that weight loss may reverse the correlation between obesity and COPD. Lung function can be impaired due to obesity as it can alter gut bacteria and lung operations, create systemic inflammation caused by proinflammatory mediators, and increase the risk of infections and additional conditions.
It has been concluded that bariatric surgery among obese COPD patients can "reduce proinflammatory levels and decrease the incidence of obesity-related health problems", and ultimately lower the risk of AECOPD, hospitalizations and ER visits.