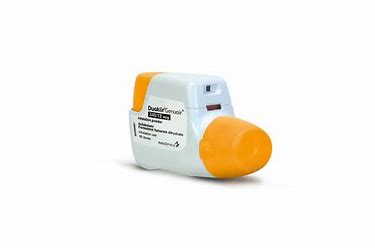 The U.S. Food and Drug Administration (FDA) has approved a new therapy for chronic obstructive pulmonary disease (COPD) maintenance, a fixed-dose combination of the long-acting muscarinic antagonist (LAMA) aclidinium bromide (400 mcg) and long-acting beta-agonist (LABA) formoterol fumarate (12 mcg). The combination (Duaklir, Circassia) is administered twice daily via AstraZeneca's breath-actuated inhaler (Pressair), Pharmacy Times reports.


The aclidinium bromide/formoterol fumarate therapy is expected to be launched in the United States in late 2019, according to a statement from Circassia. Its approval is based on broad clinical data from three Phase III studies.
Per the Pharmacy Times report, the medication therapy label includes clinical data from the Phase IV ASCENT study. "Aclidinium therapy is effective at reducing COPD exacerbations. As a result, the product is the only twice-daily LAMA/LABA in the United States with COPD exacerbation data included in its prescribing information," according to a statement by Circassia.

The hope is the FDA approval of Duaklir will provide treatment for the significant number of patients with COPD in the US, according to a prepared statement from Steve Harris, Circassia's chief executive.
"With guidelines recommending combined LAMA and LABA therapy for a number of COPD patient groups, we believe Duaklir will make an important contribution to the treatment of this debilitating disease," said Michael Asmus, Circassia's vice president, US Medical Affairs.
According to Circassia, Duaklir is presented as a dry powder for inhalation and is delivered via the breath-actuated multi-dose inhaler Pressair. Duaklir was initially approved in the European Union in 2014 and is approved in about 50 countries around the world under a number of brand names. In 2017 it completed a Phase III clinical study designed to support a regulatory filing in the US, which resulted in the product being approved in the US in March 2019.