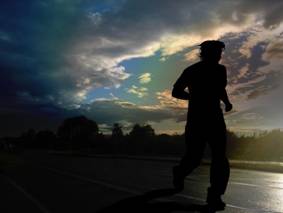 Russell Winwood was stunned when, in 2011, he was diagnosed with Stage 4 chronic obstructive pulmonary disease (COPD). He was only 45. He was fit and active — and had already signed up to compete in the grueling Australian Ironman.
Winwood refused to let the illness slow him down. Eight months after his diagnosis, the Australia native finished the Ironman competition, comprised of a 2.4-mile swim, 112-mile bicycle ride and a marathon.
"My respiratory specialist told me I wouldn't finish it, but that made me more determined to complete the event," Winwood said in an interview with healthline.com.
Winwood hasn't stopped. Despite suffering a stroke and working with just 22%-30% of his lung capacity, Winwood has competed in several marathons and triathlons since his diagnosis. That includes the famed New York City Marathon — making him the first person with Stage 4 COPD to do so. Winwood accomplished the feat in 2015 and raised $10,000 for the American Lung Association while doing it.
"A lot of people are skeptical of how I can do what I do, as people with my stage of disease don't do Ironman events or run marathons," Winwood said. "But the truth is that a healthy lifestyle that includes plenty of exercise will give you a better quality of life."
Winwood keeps close watch of his blood pressure, heart rate and oxygen levels while training, and leaves himself plenty of recovery time to keep his immune system intact. He makes sure to get plenty of rest the week of and the week after an event.
"It takes a lot out of you, and it's important to not only look after your body, but to listen to it," he said.
Running and competing not only helps Winwood stay healthy in the face of a difficult disease, but these activities allow him to inspire others living with COPD.
"So much more needs to be done to help people with these diseases live a better quality of life, as well as educate people on how to prevent developing a respiratory disease," he said.
For more on Winwood, read his entire interview with healthline.