A world renowned pulmonologist and early supporter of and contributor to the National Emphysema Foundation, Dr. Thomas Petty, M.D., passed away Dec. 12, 2009 in Denver, CO following a lengthy illness.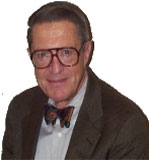 As a medical student, Dr. Petty's first patient was a man with emphysema, an experience that shaped his career as evidenced by his interest and later accomplishments in Chronic Obstructive Pulmonary Disease (COPD) and pulmonary/respiratory illness.
He is recognized as having completed the original research which resulted in the extensive use of home or ambulatory oxygen and, later, liquid oxygen. Dr. Petty is also considered responsible for the widespread use of oxygen therapy through his sponsorship of the Long Term Oxygen Therapy (LTOT) Consensus Conference, which was launched in 1986.
In addition to his work with respiratory patients, Dr. Petty is also a well-known author and editor of patient-focused books, most notably Enjoying Life with COPD (1985). He has published more than 750 articles in medical journals and authored or edited more than 40 books.
Dr. Petty wrote freely and openly to COPD patients about coping with the disease, encouraging them to enjoy life and embrace their future. In Enjoying Life with COPD, Dr. Petty wrote: "Remember that birth, life and death are natural phenomenon."
Regarded as the "Father of Pulmonary Medicine," Dr. Petty advanced every significant area of pulmonary disease and many areas in critical care and sleep medicine during his lifetime. He is also highly regarded for his work in identifying Adult Respiratory Distress Syndrome (ARDS).
Dr. Petty served on and led the board of the Pulmonary Education & Research Foundation and was the organizer and founding president of the Association of Pulmonary Program Directors. He founded a quarterly newsletter, Lung Cancer Frontiers, and co-founded the International Respiratory Care Club. He served as president of the American College of Chest Physicians, was a board member of the COPD Foundation and a member of the National Emphysema Foundation's medical advisory board for more than 30 years.
Dr. Petty also served as a professor of medicine at the University of Colorado Health Sciences Center in Denver and at Rush-Presbyterian-St. Luke's Medical Center in Chicago. He was awarded the University of Colorado's Silver and Gold Award for Excellence and earned a place in Colorado's Pulmonary Physicians' Hall of Fame.
Despite his extensive list of accomplishments, Dr. Petty always remained approachable with patients. His friendship was cherished by all who knew him personally – and many who did not. Dr. Petty is greatly missed by his daughter Caryn, sons Tom and John, eight grandchildren and his long time friend and colleague Louise Nett.