Archives
A recent study suggests that certain children with asthma, "may require a different treatment approach." The study was led by Henry Ford Health System along with eight other U.S. health systems.
Henry Ford is one of the nine health care systems that encompass the Inner City Asthma Consortium, which is dedicated to determine severe asthma prevention and reduction methods among inner city children.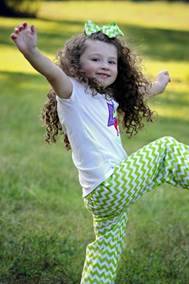 Researchers analyzed data from 717 children through the ages of six to 17 for a span of one year. Five groups of children with asthma were identified through the utilization of a computer "clustering program, based on the characteristics of the disease. Each group was categorized by, "asthma severity, presence of allergy, associated nasal symptoms and lung function test abnormalities."
Researchers discovered that although these patients were suffering from fewer allergies and receiving high levels of preventative medication, they were continuing to frequently experience asthma symptoms. This differed from four other tested groups that found a correlation between increasingly difficult asthma and an increase in allergies.
The study's lead author and division head of Allergy and Immunology at Henry Ford, Edward Zoratti, claims that the study reveals that the current guidelines to manage asthma are not as effective for, "this particular group of young asthma sufferers."
Zoratti believes that additional research is required to, "determine appropriate interventions tailored to this group of children." He also believes that this research may indicate a lack of knowledge in regards to asthma, "among children experiencing a particular type of the disease."
Click Here to Access the Full Article on News Medical Life Sciences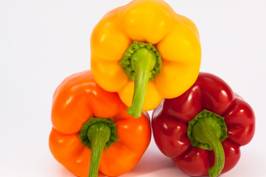 It is well-known that the food we eat affects our health, but did you know that it can also affect the way we fight diseases? Lung diseases, such as chronic obstructive pulmonary disease (COPD) often are treated with medications, inhalers, and supplemented oxygen, but diet has recently come to the forefront as a factor in the way the body deals with the symptoms of COPD.
In new research published in Annals of American Thoracic Society, study researchers found that "people who ate the most fiber fared better in lung capacity tests." They were able to determine this using data from 1,921 adults, ages 40 to 79, who participated in a large national database compiled by the Centers for Disease Control and Prevention. By pulling their diet and nurtrition information, researchers were able to determine that "68.3 percent of the fiber eaters had normal lung function compared to 50.1 percent of those who did not eat a lot of fiber. In addition, just 14.8 percent of those with fiber-rich diets had airway restriction, compared to 29.8 percent of those who did not follow such diets."
It was also noted that those participants with the "highest fiber intake also had greater lung capacity and could exhale more air in one second, which are also important indicators of lung health," but the way diet affects lung health doesn't stop at fiber.
Another study was also recently conducted that illustrated the impact that omega-3 fatty acids have on the symptoms of COPD. A compound derived from fatty acids, like fish oil, "showed promise for preventing a bacterial respiratory infection that is a common cause of disease exacerbation." This means that future treatments may be able to be derived from these compounds in order to prevent bacterial infection and symptom exacerbation in those patients dealing with COPD.
In the March 7 publication of Respiratory Research, a proposed 5-step approach was introduced that aims to prevent fractures in chronic obstructive pulmonary disease (COPD) patients. This five-pronged approach would include case finding using clinical risk factors, risk evaluation, differential diagnosis, therapy, and follow-up in an effort to better identify and treat those COPD patients at a higher risk for fracture.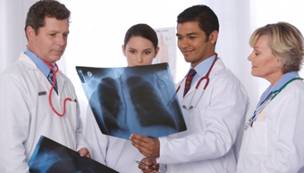 The prevention plan began by gathering an eight person panel which included three pneumologists, two rheumatologists, one endocrinologist and two clinical researchers, who together developed the first clinical guideline to prevent fractures in people with COPD.
This clinical guideline helped direct the study authors to craft the proceeding four steps of the plan:
1. Case Finding. To identify patients applicable for fracture risk, the writers recommended COPD patients over 50 who fulfill two or more high-risk factor criteria to undergo comprehensive risk evaluation.
2. Risk Evaluation. COPD patients recommended for risk evaluation are urged to undergo hip and spine dual energy X-ray absorptiometry (DXA) and spine imaging.
3. Differential Diagnosis. The panel pressed for secondary osteoporosis or other metabolic bone disease screening, since vitamin D deficiency, secondary hyperparathyroidism, renal insufficiency, and hypogonadism have been identified as risk factors for these conditions.
4. Therapy. To prevent fractures, clinicians should promote lifestyle changes for COPD patients, including quitting smoking, exercise, and lowering alcohol use. Daily intake of 1000 to 1200 mg of calcium and 800 IU of vitamin D should occur via diet or supplementation.
5. Follow-up. Physicians should be diligent in ensuring that COPD patients adhere to and are tolerating therapy. They should also determine how long therapy should go on, and weigh how safe their current regimen is.
The authors of the prevention plan concluded that based on their guidelines, an "evidence-based systematic clinical approach is easy to use by pulmonologists and should assist in decreasing COPD patients' fractures".
Chronic obstructive pulmonary disease (COPD) may be partly driven by the action of immune cells circulating in the blood that enters the tissues of the lungs, according to a recent study published in the online journal, PLoS ONE. This discovery from researchers at University of California Davis helps explain how smoking can cause the chronic lung condition.
"Understanding how a disease begins is an important step to develop new therapies, and knowing the mechanism and location of white blood cell recruitment to the lung early on in the development of COPD in this model will allow us to more rapidly screen drugs and determine how they work," said Benjamin Davis, a researcher with the Center for Health and the Environment and the lead study author, in a recent statement from ScienceDaily.
Davis and fellow researchers used an animal model to study the effects of cigarette smoking on COPD development. Findings show that approximately 10 years of one-pack-a-day smoking led to prominent immune response in the lungs, including physical damage and scarring to the bronchial airways and accelerated inflammation and cellular changes that in turn can obstruct airflow and reduce normal lung function.
Further, this research demonstrates that tobacco-smoke exposure stimulates a specific type of white blood cell called a neutrophil to migrate out of bronchial blood vessels and accumulate in the lung tissues. While neutrophils can aid in tissue repair, researchers note that when present in excess and activated, these white blood cells can release enzymes that kill cells and accelerate inflammation.
The study also demonstrates that the immune cell-triggered inflammation begins in the blood that feeds the bronchial airways, rather than in the alveoli where oxygen is transferred to blood vessels.
"Tobacco-smoke-induced lung inflammation is the cause of most COPD cases," wrote study authors. "These findings have important implications for understanding the etiology of COPD and suggest that pharmaceuticals designed to reduce leukocyte recruitment through the bronchial circulation may have promise as potential therapy to treat COPD."
With this information, researchers now plan to test a variety of potential drugs that target these cells with the long-term aim of finding new ways to treat people with COPD.
An answer by Thomas Petty, M.D.
"IT'S NEVER TOO LATE TO STOP SMOKING." Almost everyone knows of the harmful effects of tobacco smoke. It has been conservatively estimated that regular smokers of cigarettes sacrifice seven years of life. If one divides the number of cigarettes smoked in a lifetime on the average into this seven years loss, it turns out to be 5 ½ minutes for each cigarette! What an astonishing statistic. The premature loss of life is primarily due to doubling the risk of heart attack, lung cancer, and emphysema. There are other cancers such as bladder, larynx, esophagus, pancreas, and uterus which are also caused by tobacco. Thus, it becomes pretty clear that stopping smoking is critical to future health. Never starting, of course, is better.
"But I have already smoked too long, doctor" is a common statement of my patients. "It won't do me any good now because too much damage is already done," they will continue. Nothing could be further from the truth. It is now known that there is benefit from stopping smoking no matter how long you have smoked. The risk of heart attack returns to normal after five years of non-smoking, and cancer risk goes way down also after five years or more of smoking cessation. In emphysema, the rate of loss of breathing capacity slows once people finally stop. Even patients over the age of 60 with advanced degrees of impairment live longer if they stop smoking. Thus, it is pretty obvious that no one should continue to smoke no matter what their preconceived notions about damage already done may be.
But how to stop—-ah-h-h—that's the question! There is no simple answer. A personal commitment to quitting is, of course, fundamental. Setting a date for stopping, substitution with candies, chewing gum or something else to chew on helps a bit. Nicotine containing gum is useful in many patients in dealing with the withdrawal symptoms which plague many nicotine addicts. Nicotine patches and nasal spray are also effective. The changing of life patterns and avoiding social signals which call for a cigarette is also extremely helpful. There is no way that I can tell everyone who reads this newsletter exactly how to stop smoking, but in fact, nearly everyone can stop now. It is not really later than you think. Plan for your first no smoking day in a long time soon because, after all, "it is the first day of the rest of your life."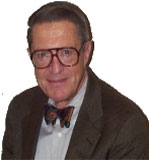 Thomas L. Petty, M.D., Professor of Medicine, University of Colorado.
For those who live in Southern Connecticut, we recommend you to go through our smoking cessation program at Norwalk Hospital. This program consists of seven sessions which are listed as following:
Session l. Building motivation to quit
Session 2. Motivation (part 2)- getting ready for Quit Night
Session 3. Quit Night - A New Beginning
Session 4. Days Later - how's it going
Session 5. A Week's Worth of Quitting
Session 6. Two Weeks of Cleaner Air
Session 7. Back to the Future
All sessions start promptly at 6:00 PM and end at 7:30 PM. Sessions will be held in the Perkin Auditorium at the Norwalk Hospital (first floor on your left as you enter the lobby).
THE NORWALK SMOKING CESSATION PROGRAM IS FREE OF CHARGE.

The sessions will be facilitated by Gail Ullrich, RN, RRT, BSN and Gary Falcone, AS, RPFT, RCP, CCPT. The coordinator is Margaret Haggerty RN, M.S.
Please call (203) 852-2484 at the Section of Pulmonary and Critical Care Medicine to sign up.
If you are considering nicotine replacement therapy, be sure to contact your physician first. If nicotine replacement therapy is recommended for you, it is best used in conjunction with a smoking cessation program.
For further information on smoking cessation you may contact the American Lung Association at 1-800-992-2263 or the American Cancer Society at 1-800-ACS-2345.
Avoid negative thoughts on how difficult it may be.

Repeat daily at least one or two of your reasons for quitting.

Begin to condition yourself physically; start a modest exercise program, drink plenty of water, get plenty of rest, avoid fatigue.
Learn what to Expect
Have realistic expectations- stopping isn't easy, but it's not impossible either.

Ask your spouse or friend to stop with you.

Understand withdrawal symptoms are temporary and non-life threatening. Remember that continued smoking cigarettes are much more dangerous to your body than withdrawal symptoms.

Know that relapses will occur. Start practicing different responses now.
Involve Someone Else
Tell family and friends that you are quitting. Most will be supportive of you.
Practice going without Cigarettes
Stop carrying cigarettes with you. Do not keep a pack of cigarettes handy in case of emergency.

Don't empty your ashtrays: Look at the accumulation of butts and ashes. The sight and smell may be unpleasant.
Realize that this is an urge, and it will pass. Just like a hunger pang.

Do some problem solving: Where was I when got the urge? What was I thinking? Who was I with? What was I doing? Etc.

Remind yourself why you wanted to quit.

Anticipate triggers and prepare to avoid them.

Keep your hands busy.

Find activities that make smoking difficult.

Put something other than a cigarette in your mouth.

Change your surroundings when the urge happens.

Look at your watch. Urges will last only a couple of seconds. Be aware that they will return.

Be prepared for first times: First vacation, first time home alone, first time being bored, first long car ride.

Change your daily routine in order to break your habits and patterns.

Use positive thoughts only. You are not giving up something. You are giving your body a great present.

Keep a daydream ready to go. You don't have to act on it, but planning one can be fun.

Practice relaxation exercises.
Throw away you cigarettes and ashtrays and lighters.

Clean your clothes to rid them of cigarette smell.

Stay away from smokers until your resolve gets stronger. (This is a temporary measure only).

Clean your car inside and out. Keep a different air freshener in your car. Baking soda will absorb many odors from the car if left overnight and then vacuum up.

Go to bed early.

Keep yourself busy.

Make a list of projects that you never had the time for. Save this for when you really need to keep your mind off cigarettes.

Save the money that is budgeted for cigarettes in a jar and use this money for your rewards.

Take quitting hour-by-hour, day-to-day. Thinking that you are never ever going to smoke again can be overwhelming to some.

Take a walk or a mental break as often as possible.

Refocus your thoughts often.

Refuse to allow anything to change your mind.

Smoking is no longer an option.
Coping with Relapse
Stop smoking immediately.

Get rid of the cigarettes you may have.

Write down three reasons to quit.

Recognize that you had a slip, and it is not the end of the world.

Don't be too hard on yourself. One slip doesn't mean you are a failure. Work on getting back on track immediately. You success will be better on the next try.

Identify the trigger. What prompted you to smoke? Work on other responses instead of smoking.

How will you cope when this happens again?

Make a contract with yourself to remain a nonsmoker.
Note: In addition to the use of nicotine replacement, a newer medication may be helpful to stop smoking. Bupropion (ZybanÒ) is used in the attempts to reduce problems during smoking cessation attempts. You may wish to discuss this with your physician.
Cigarette smoking is a toxin. In fact, it contains several different toxins, such as carbon monoxide, formaldehyde, nicotine, and toluene. There have been 4,000 toxic substances attributed to cigarette smoking.
As a hot, volatile gas, cigarette smoke is, at the very least, a harsh irritant to your airways. However, this is just the start of the detrimental effect of cigarette smoke.
Cigarette smoke destroys the normal function of your lungs by increasing the production of mucus, making it difficult to clear this mucus out of your lungs, and destroying your lung tissue.
Cigarette smoke is the leading cause of lung cancer and can contribute to various other cancers as well.
The Environmental Protection Agency (EPA) has listed environmental smoke (passive smoking) as a cancer-causing agent.
Environmental tobacco smoke may contribute to asthma and increased respiratory infections in children.