Although exercise cannot reverse chronic obstructive pulmonary disease (COPD), it is key to effectively manage the condition and enhance overall health. Despite the prevalence of lung damage that leads to COPD, exercise can also help to avoid deterioration of the condition that can result in increased breathlessness and a worsening prognosis.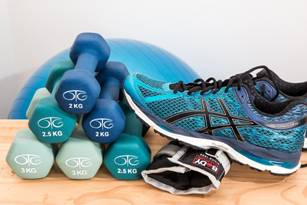 A study published in the Annals of the American Thoracic Society reveals the "association between physical activity levels and hospitalizations among a large group of COPD patients." The results showed that patients who participated in any level of consistent moderate to vigorous physical activity had a profoundly lower risk of 30-day hospital readmission.
Researchers noted that physical inactivity reflects a worsened state of the disease, and the results support the theory that "promoting and supporting physical activity is a promising strategy not only to reduce the risk of having the [initial] hospitalization but also to buffer the stresses of hospitalization…Our findings further support the importance of physical activity in the overall management of COPD across the care continuum, including care transition efforts to reduce 30-day readmissions."
The following steps highlight the most beneficial exercises for COPD patients and how they can incorporate them into their daily routine.
Get Checked Out
It is essential for COPD patients to first speak with their doctor before beginning any exercise routine to ensure they can safely increase their levels of physical activity. As part of COPD management protocol, doctors will often prescribe a pulmonary rehabilitation program which can help patients learn the most effective exercises and how to accurately perform them.
Stretching and Relaxation
Stretching is an optimal practice to begin before an exercise session, as it can help to loosen muscles and prevent an injury from occurring. For COPD patients in particular, "loosening up the muscles around the neck, chest and upper back may offer more room for the lungs to expand," effectively enabling individuals to breathe easier.
Additionally, practicing yoga or tai chi can help to loosen muscles and encourage relaxation. Finding effective stress reduction techniques is essential as COPD can induce anxiety due to breathing complications and worsen symptoms. Both pursed-lip and diaphragmatic breathing are effective techniques to help patients relax, since they can help to "reduce some of the hyperinflation of the lungs that can result from COPD."
Strengthening
COPD patients can also benefit from strengthening exercises for both the upper and lower body, such as lifting light free weights, and using weight machines or stretchy resistance bands. Lower body resistance exercises may also incorporate "side leg lifts, heel-to-toe lifts and repetitions of rising from seated to standing positions."
Upper Extremity Endurance
Improving and maintaining both upper extremity strength and endurance is essential, so patients can remain independent. Upper extremity endurance includes the ability to reach for items on high shelves or dress themselves. To build upper body endurance, many patients utilize an arm ergometer – "a small, tabletop bicycle that's pedaled with the arms." If patients don't have access to this machine, they can also use resistance bands or practice arm exercises to facilitate upper extremity strength.
Lower Body Endurance
Lower body endurance exercises, such as walking and cycling, are recognized as the "cornerstone" of a pulmonary rehabilitation program and are essential for COPD patients to regularly practice. Without this endurance, patients are more likely to experience difficulty in completing daily tasks. Depending on the stage of their COPD, patients can also benefit from incorporating water aerobics and swimming into their exercise regimen.
Start Slowly and Build Gradually
It's also important to note that if a patient has been mostly inactive for a significant period of time, they should steadily ease back into a regular exercise routine and build gradually allowing the body to adjust. Choosing an activity that is enjoyable can also help to create a long-term lifestyle change.
Click Here to Access the Full Article on U.S. News & World Report
Although a growing body of literature supports the fact that cigarette smoking is the top risk factor associated with developing chronic obstructive pulmonary disease (COPD), it is not the sole cause. In fact, scientists are still perplexed as to how exactly "cigarette smoke and other inhaled irritants can trigger the development of COPD."
One theory is that smoking cigarettes may "deplete the body of vitamin A," a nutrient that builds and repairs lung tissue. If lungs lack adequate amounts of vitamin A, it can lead to the development of lung infections or chronic diseases of the lungs.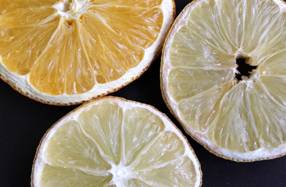 "The connection between vitamin A and the lungs starts from the very beginning, while we're developing in utero and continues well into adulthood," said Dr. Antonello Punturieri, program director for COPD at the National Heart, Lung and Blood Institute. "The lungs are still developing until age 25 or 30. This is why teen smoking is so bad. Having an adequate vitamin A intake throughout this developmental period is critical to developing and maintaining strong, healthy lungs."
A study published in the journal Molecular Aspects of Medicine revealed that moderate vitamin A deficiency can significantly enhance the occurrence of respiratory tract-related diseases. In addition to vitamin A's involvement in lung function, it is also critical to the development of various tissues and cells, and embryonic lung growth.
Another study published in the New England Journal of Medicine revealed that pregnant women who took vitamin A supplements throughout their pregnancy "had children with better lung health when the researchers followed up 9 to 13 years later."
Researchers in Holland published a study in the Journal of Physiology and Pharmacology focusing on laboratory mice bred to have reduced levels of vitamin A. After exposing the mice to cigarette smoke, it was discovered that they developed emphysema in a total of three months. The study could signify a potential correlation between cigarette smoke, reduced levels of vitamin A and the development of chronic lung diseases. Ultimately, this could signify the ability to reverse or cure lung damage caused by COPD.
Although various studies and evidence exists, scientists must still preform additional studies to determine if the intake of vitamin A can truly reduce COPD symptoms and its progression.
Click Here to Access the Full Article on U.S. News & World Report
A trial published in the American Thoracic Society's American Journal of Respiratory and Critical Care Medicine reveals that a minimally invasive procedure may help patients with severe emphysema breathe better.
The study analyzes the use of a one-way valve that prevents air from entering diseased regions of the lung. This, in turn, enhances lung function and enables healthier areas of the lungs to expand.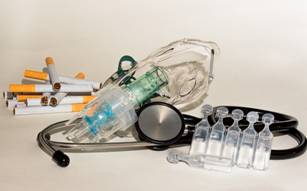 Previous studies highlighting the placement of the valves using a bronchoscope found that this therapy can be used as an alternative to lung volume reduction surgery. Patients with severe emphysema that participate in endobronchial valve (EBV) therapy "appear to experience similar improvements in lung function, shortness of breath, exercise intolerance and quality of life," yet do not experience the occurrences of morbidity and mortality which have been associated with surgery.
"EBVs have been shown to work in single center trials, but these studies tend to be performed at centers, and by physicians, with considerable experience, so the results may not be generalizable to other centers," said lead study author Samuel V. Kemp, MD, a respiratory physician and expert in interventional bronchoscopy at Royal Brompton Hospital. "What is interesting about this multicenter trial is that the results are at least as good as the single center studies, even though some of the investigators were new to the technique."
All study participants were ex-smokers over the age of 40 and had been diagnosed with severe heterogeneous emphysema. Out of the 97 participants, sixty-five received the valves and the remaining patients were provided with standard of care specific to each medical center's protocols for a patient that had received bronchoscopy.
Researchers discovered:
After three months, 55.4 percent of the EBV group had a 12 percent improvement in FEV1, the amount of air that can be forcefully exhaled in one second, compared to 6.5 percent of controls.
After six months, the percentage of those in the EBV group meeting the minimum FEV1 improvement was 56.3 percent, compared to 3.2 percent of controls.
The average increase in FEV1 in the EBV group was nearly 30 percent.
After six months, secondary endpoints among those in the EBV group were also clinically and statistically significant, including being able to walk nearly 80 meters longer in six minutes, retaining 750 fewer milliliters of air upon maximum expiratory effort, exhibiting less shortness of breath and reporting higher quality of life.
The most common adverse event in the EBV group was a collapsed lung, which occurred in 29.2 percent of the patients.
According to a recent study in the journal Chest, titled, "Reduced Risk of Acute Exacerbation of COPD After Bariatric Surgery: A Self-Controlled Case Series Study," the risk of hospitalizations and emergency room (ER) visits caused by acute exacerbations related to chronic obstructive pulmonary disease (COPD) decreases among obese patients who underwent bariatric surgery.
Nearly 6 percent of adults in the United States have COPD, 35 percent of whom are considered obese. According to studies, obesity may be a risk factor as it results in higher rates of acute exacerbations.
Researchers found that patients with COPD who lost weight realized enhanced outcomes, such as clinical scores and exercise tolerance. Yet, there are few statistics available regarding the impact weight reduction can have on additional issues associated with COPD, including acute exacerbations.
The study, conducted by researchers at Massachusetts General Hospital, analyzed 481 obese patients who were diagnosed with COPD and had undergone bariatric surgery between the years 2005 and 2011. The analysis studied each patient's risk of acute exacerbations in COPD (AECOPD) that resulted in ER visits and hospitalizations over a two-year period, which was "compared to the patient's risk in the pre-surgery period."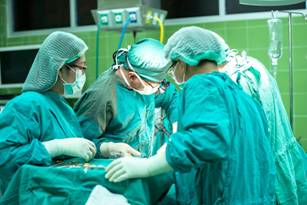 It was discovered that 28 percent of obese COPD patients were hospitalized or visited the ER due to AECOPD 13 to 24 months before their bariatric surgery. However, within 12 months of post-bariatric surgery, only 12 percent of patients were at risk of being hospitalized or visiting the ER.
Although the "mechanism behind weight loss and a decreased risk of AECOPD" has yet to be discovered, researchers suggest that weight loss may reverse the correlation between obesity and COPD. Lung function can be impaired due to obesity as it can alter gut bacteria and lung operations, create systemic inflammation caused by proinflammatory mediators, and increase the risk of infections and additional conditions.
It has been concluded that bariatric surgery among obese COPD patients can "reduce proinflammatory levels and decrease the incidence of obesity-related health problems", and ultimately lower the risk of AECOPD, hospitalizations and ER visits.
Various complications can arise when an individual has chronic obstructive pulmonary disease (COPD), including increased susceptibility to lung infections such as pneumonia.
Defining Pneumonia
Pneumonia is the eighth leading cause of death in the United States and most common among individuals over the age of 65, smokers, young children and those with lung conditions including COPD. The infection can present in one or both lungs and often results from the prevalence of bacteria or viruses. Although rare, the infection can develop when certain fungi are directly touched or breathed in. Further, pneumonia can occur as a result of another illness "such as flu, measles, pneumococcus, whooping cough and Haemophilus influenzae type b (Hib)."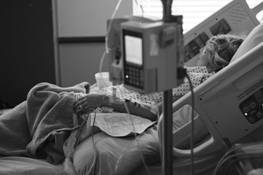 Pneumonia Symptoms
It is vital to contact your healthcare team if you are experiencing the following symptoms, as signs of pneumonia "can often be mistaken for a COPD exacerbation."
Fever or shaking chills

Rapid breathing or shortness of breath more severe than usual

Excess coughing producing lots of mucus

Change in color of mucus

Increased heart rate

Pain in a specific area or areas of the chest when breathing deeply

Nausea or vomiting

Diarrhea
Although it remains essential to recognize the signs of pneumonia and other exacerbations and receive timely care, the COPD Foundation recommends taking preventative steps to reduce the risk of infections.
These include attending regular appointments with your healthcare team, washing your hands, quitting smoking and receiving annual flu and pneumonia vaccinations. Additional preventative steps individuals can take are refraining from touching their eyes, nose and mouth, avoiding large crowds throughout flu and cold season, eating a balanced diet and carrying writing implements instead of using another individual's.