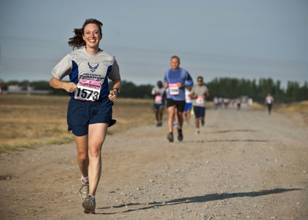 If you or anyone you know are suffering from emphysema, you already know the toll it can take on your body and how difficult it can be to exercise, especially for long periods of time. But what if there was an implant device that would help you to increase your exercise level and decrease your symptoms of emphysema? Now, it's possible.
In a recent study conducted at 10 university hospitals in France, it was found that individuals suffering from emphysema and other inflammatory lung diseases can partake in a "minimally invasive surgical intervention that could lead to significant improvements in exercise capacity. This technique involves fitting lungs with bilateral coils using an endoscope."
This new form of precision medicine hopes to improve efficiency of technologic intervention and could serve to translate into greater cost-effectiveness for the treatment of emphysema.
With an estimated 4.1 million people in the United States living with emphysema, this treatment could prove to be a promising solution for those individuals looking to maintain a healthy, active lifestyle, while managing their symptoms without the use of medications.
The results of the study found that "patients in the coil group experienced substantial decreases in lung hyperinflation and improvements in quality of life." The downside, however, is the current cost of the procedure, with patients in the coil group averaging "$47,908 more than the usual care group" in treatment cost. This increased cost does not mean that the treatment is not realistic though, as technology improves, study authors suspect that the cost will decrease and become more affordable.
For those living with chronic obstructive pulmonary disease (COPD), breathing is often cumbersome and labor-intensive. Even the most menial of activities can become difficult, but a traditional Chinese breathing exercise could make breathing that much easier.
Practiced by over 100 million people in China, the traditional Chinese breathing exercise, known as liuzijue qigong (LQG), uses a meditative movement of patterned exercise to create a state of "zen". Much like yoga, a group of meditative movements popular in the U.S., LQG is helping people to improve and stabilize their breathing.
In a recent study conducted in Beijing, China, researchers used "126 COPD patients, aged between 65 and 85 years old to undergo a 45-minute LQG program, 4 times a week, along with daily walking for 30 minutes for 6 months". Another group of participants (the control group) were instructed to only walk daily for 30 minutes.
The researchers found that "the LQG group exhibited significant improvements in their lung function, general health, mental health, and quality of life at the end of 6 months, compared to the COPD patients in the control group at only walked for 30 minutes a day". The findings suggest that this traditional form of meditation and exercise may be greatly beneficial in rehabilitating older COPD patients, and may be used as a favorable alternative to regular exercise routines.
For those in the U.S. unfamiliar with LQG, yoga can be a similar alternative, although the results of the study did not test the results yoga has on COPD patients. To read the full study and learn more about LQG exercises. click here.
For chronic obstructive pulmonary disease (COPD) patients, walking at least two miles daily may reduce the risk of hospitalizations from severe episodes. That is according to a recent study published in the April 2014 issue of Respirology, "Influence of changes in physical activity on frequency of hospitalization in chronic obstructive pulmonary disease."
The study, which examined the physical activity of more than 500 ambulatory clinic patients being treated for COPD, found that patients who had regular walking regimens between roughly two and four miles daily were half as likely to be hospitalized as those who did not walk regularly. These findings were calculated based on self-reported exercise totals from participants, the compared to data on hospitalization records. Patients' activity was tracked for at least two years.
This study further confirms the importance of physical activity for people living with COPD and chronic lung conditions such as emphysema. While regular exercise may seem like a daunting task, slowly working up to a moderate level of activity can have positive long-term benefits. For those who find this difficult, walking with a family member or pet may prove helpful, as this will provide individuals with the motivation they need to complete their daily exercise goals.
"Of course, daily walking acts to improve the exercise capacity of these patients," said study author Dr. Cristobal Esteban, a staff member in the respiratory service at Hospital Galdakao-Usansolo in Spain, in an article published by Health Day. "Physical activity is a 'medicine' that will improve your general condition as well as COPD."
A pilot-study of chronic obstructive pulmonary disease (COPD) patients who meet the definition of homebound has found that just two months of aerobic conditioning and functional strength training can produce measurable improvements in quality of life. As defined by Medicare, homebound includes any person who is unable to leave the home without the help of an assistive device or another person. The study found that the greatest improvements in quality of life were seen in dyspnea and depression.
Chronic obstructive pulmonary disease (COPD) may cause abnormalities in patients' muscular systems that affect the way they walk, according to recent research published in the journal of Respiratory Medicine.
In an effort to determine whether walking abnormalities are associated with COPD severity, researchers from the University of Nebraska and the University of Kentucky, examined data collected in the National Health and Nutritional Examination Survey (NHANES) to explore the association of COPD severity on gross walking abnormalities, including limping and shuffling. The date from the NHANES provides information from 31,000 people between the years 1988 and 1994. Logistic regression models were composed based on age, gender, body mass index (BMI) and smoking status as predictors of walking abnormalities and physical activity. The study looked specifically at the association of physical activity levels with COPD severity and walking abnormalities.
Researchers found that for patients between the ages of 40 and 90, there was a significant correlation between COPD severity and the risk of walking problems. Persons who with COPD had nearly double the risk of walking problems. Decreased physical activity was also significantly linked to all but mild levels of COPD, suggesting that disease severity can contribute to mechanical outcomes.
Researchers believe that the association between walking abnormalities and COPD may be due to the presence of physical inactivity in patients with COPD. Further, additional research should be conducted investigating more closely the mechanical outcomes of COPD patients.
Click here to access the full study from Respiratory Medicine